Tuesday, January 23rd, 2007
---
5:39 pm
- aww
My poor lj, I've been neglecting you!!!
Well, I just got back from Louisville. We went down for a work thing. It was actually kind of fun, even though I had to wake up at 2 AM and we had to leave by 4:30. I was pretty tired to say the least. I don't have many updates, because my life is basically work/taylor/work/taylor. Some weekends I get the chance to go out with my friends but nothing like before. I'm ok with that. I'd rather stay home with Taylor than anything else.
Anyway, I'm sure there are tons of things I could type in here, but I don't want to spend hours putting every detail. I'll just save all this for a later date :)
Thursday, October 19th, 2006
---
11:23 pm
- !
Ok, so I haven't updated in forever pretty much. I have to get up at 4:30 AM!!!! ugh...BUT I get pancakes, so it kinda evens out..
<3
Wednesday, July 26th, 2006
---
9:37 pm
- UPDATE!
Soo..quite a few things going on...first off, I have the birthday this weekend. 25 is a SCARY age! I remember thinking about 25 when I was back in high school & all that I wanted to have accomplished by then.....doesn't always work out that way! I was on the right track when I lived in Indianapolis...but oh well. I'm still making it-somewhat :)
I found out today that I will be going to Cincinnati next week for training instead of Indianapolis. The training class is supposed to be really big..so hopefully they will all know places to go and everything. I was excited about Indianapolis, but the training there was canceled. It might be fun...who knows.
So for the first time in 2006 I am not "talking" (lol) to anyone! I don't know what my deal is with guys lately..or what guys' deals are with me, but it seems like none of them are ready to grow up. I am, so I'm not really sure what to do! Its too bad though, I met a guy a couple of weeks ago that isn't really my type..but so freaking nice I liked him right off. He seems pretty up and down with the whole thing, so I just thought it would be better to let it go before I end up really into him and getting disappointed. Probably not the best way to be, but I'm freaking scared of boys and never know what to do!
Natalie is coming down this weekend! YAY! She has a wedding to go to in Jasper on Saturday, but then Saturday night its OUT FOR MY BDAY! Woohoo! Free drinks! Sunday we have Crystal's baby shower. I am really excited to see her, but I think I'll have to leave early to make it to Cincinnati at a decent time :( Sad. Anyway, I have some unpacking to do..I finally loaded up all the liquor from the old apartment and moved it over here...now I know why my fridge looked so empty!
Friday, July 21st, 2006
---
9:12 pm
- AHH! storms...
These storms are freaking me out and I want them to STOP! Last night was my official first night here by myself and it SUCKED. I woke up at like 2:30 to thunder/lightening/rain...ahh. I need a roommate or something...one that just stays here when its storming and stuff.
Tuesday, July 18th, 2006
---
2:01 pm
- bussssssssssssssssy
So, I moved into my house...its nice...but I still have a lot of moving to do n everything. I started my new job. Its ok, but the $ is GREAT so I'll deal with it. I'm good..the kid is good.
Friday, May 19th, 2006
---
2:04 am
- :(((((((((((
I am way overly emotional concerning The OC. My favorite character, Marissa, DIED TONIGHT. HOW CAN THEY DO THAT? The show is basically built around her and Ryan. How can they kill her off? Now, Mischa Barton (Marissa) is not exactly known for her acting...but she did a pretty good job tonight. But anyway....I felt like an idiot watching this show-I just sat there with my mouth wide open, crying...like it was someone I knew dying...well, it is actually.....ive watched every episode for the past 3 years..at least 5 times each. I'M PISSED/SAD/etc. Fuck the oc, fuck fox, fuck tv :(
Monday, May 15th, 2006
---
12:27 am
- my kid is fucking awesome
EVIL!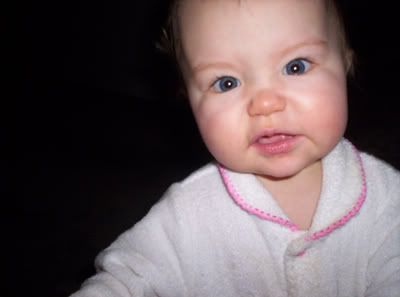 Thursday, May 11th, 2006
---
11:42 pm
- HAPPY BIRTHDAY!
Taylor is 1 today. This year flew by-I can't believe she's already 1! She walked across the room today-all by herself! awww :)
Monday, May 8th, 2006
---
11:38 am
- Weekend!
Amber & Natalie came down Friday night. I was SO happy to see them....it seems like its been forever. I took them to the lil hick bar in Fort Branch. They actually liked it!!! Natalie had to drive us home...eek. lol.
Saturday we went to Fort Knox. Amber and I had to be the lucky car that they wanted to search as we were driving on post. Somehow we got out of it :) We stayed with Crystal and Ryan!!! :) I somehow lost my debit card. I didn't drink that much at the bar cuz I was still sick from the night before. blah. We drove around the barracks 50 million times looking for some "HAC" for Natalie and me too, I guess. I didn't get any calls because cingular does not work on the base. So, sorry if u called me.
Sunday, I stopped in Corydon to buy these shoes I saw the day before. That's when I realized my debit card was gone....at least I got it cancelled!
Now Taylor is here trying to grab EVERYTHING and I need to go tan so thats it
Thursday, May 4th, 2006
---
11:39 pm
- An update!!!
Yay! An update! I come to lj every other day or so...to read the friends' stuff, of course :) but I'm always a bad updater :P
So, my job sucks. I guess everyone's does...but I tolerate it cuz I <3 the people I work with (for the most part). Well, now Heather quit, Cora quit, Maegan's last day is Tuesday. The only ppl left of my friends is Kyleigh & Kandra! boo!
Tomorrow is Cinco de Mayo. I dunno what Mexicans do on that holiday, but I plan on drinking lots n lots of Corona & Tequila at the hick bars.. :) I'm going to lunch with Maegan tomorrow & doing some shopping... AND THE BEST PART is Natalie and Amber are coming down...gonna be lots of fun!!!!
Saturday we are going to Ft. Knox to see Crystal and Ryan's new place! Then we're going out in Louisville..should be extra fun cuz its Derby weekend! Maybe I'll meet famous people....yay.
Crystal is having a BABY! I'm SO freakin excited about that..just wish she still lived in the next town over!
Well, enough updating...I tivo'ed the OC and now I must watch it!
Tuesday, April 25th, 2006
---
3:04 pm
- BOO!
I just got this letter on my door saying that I need to stop having loud parties cuz I have a neighbor who's complaining. Umm? I don't even know enough people around here anymore to have a party lol. It said my neighbors need to get up for work or school and I am disturbing them (none of them work! I'm the only one in this whole building!) and all the kids here are too young for school. So yeah, what the fuck. I have this ghetto ass fat white girl next door who likes to have a different *nigga* (lol) over every night and listen to "that kind" of music...so I guess I should complain on them. My neighbor below me is a jealous wife and yells at her husband and slams doors all night. Across the hall, they've got some retarded girl living with them right now so there are alarms on all the doors in their apartment and no one seems to know how to turn them off. The cops came to another one in my building for domestic violence just last week. Ok....and I'm in trouble for having "crazy parties"..........weird. I haven't had a party since Indianapolis-and still there weren't any complaints. Good thing I'm moving soon!
Thursday, April 6th, 2006
---
11:47 pm
- Yay!
So that interview on Tuesday must have went ok cuz they called me for a second one. Its a panel interview so I will be with 4 people..all asking questions n stuff...that's kinda scary.
Tuesday, April 4th, 2006
---
1:31 am
I have the worst headache ever!!!! :( I need to go to bed but there's a lot I have to do before then..and I just don't want to do anything but go to sleep! Make sense? Sooo I got to see my Cora Friday..haven't seen her since she quit work (earlier in the week). She came over and drank 1 drink :) we *sorta* played badminton in my dining room..ah fun. Jessica & Christian spent the night on Saturday. It was cute to see Taylor and Christian play together...aww :) Sunday there were a billion storms so I spent most of the day in a basement...woo.
I have an interview tomorrow. Hope I get it..I just can't stand my job anymore :(
Well, eveything is all blurry now from my headache so id better get off this thing!
Thursday, March 30th, 2006
---
2:39 am
- Soooo...
I don't sleep much..2:30 am and I'm here bored. Not tired. I didn't go to work tonight-opted for bowling with Matt instead. We went to Fox & Hound after that for some drinks (too many drinks!) and I tried to help him pick up girls :) He kept saying no cuz he was with me. Ew. No thanks! So, we went to pick up Taylor afterwards and he got all pissed off. He came back to my house for an hour and got pissed again cuz I didn't want to sit by him or something. I told him to go home. I just don't see him as any more than a friend and if I ever did (I wouldn't..but still) the whole getting pissed because I had to get my daughter thing ruined it.
So there's the second guy this week that has completely weirded me out (my little high school friend went crazy yesterday)...and its just Wednesday...wonder how the rest of the week will be!
Tuesday, March 28th, 2006
---
7:11 am
- soooooo....
I've been neglecting this thing again. Ah well, I've had it for years, its gonna happen @ times. Whats been going on lately..hmm...Well, all the people I actually like @ work are leaving :( First Kandra left for her maternity leave (but she'll be back in like 2 weeks), then Heather just walked out, Cora put her two weeks in and tonight was her last night. Now its just me and Kyleigh. I mean there are other people working there...but I don't like em :) I had to train a new girl these past few days and she's a fucking moron. I even made her a little list of things she had to do and she just stands there like an idiot. That's gonna be fun. I went out and bought a new printer cuz I lost my old one somehow in the move..and I printed some resumes and faxed a few to some companies. I need a new job...quick! I was thinking about going back to school but I have $11K to pay back to those fuckers already. I hate Sallie Mae! I pass that building on the way from Indy to Muncie and I always feel like blowing it up...I guess the debt would still be there even if the building wasn't..so whatever. I'll pay it :(
Sooo..Jess and I decided something that we both knew all along tonight...no matter what a guys age, what his situation (how *stable* in his life he may be, etc)-they are all fuck ups. Really, I get a lot of shit cuz I am always going for the younger guys...well Jess' is 8 years older than her and doing the same thing as mine end up doing...so ya, its just males in general. Maybe I'll find one that will change my mind someday...doubt it though.
I got my nails done today..(exciting news huh!)..last time I got them done I didn't have them cut..and I couldn't type or work or open pop cans properly..it was a shitty two weeks. Now they are shorter and I can resume my normal life..YAY!
I want to play tennis...bad. I wish the weather would get nice and someone would move into my apartment complex that wasn't a 300 lb. baby mama livin off welfare or whatever so I'd have someone to go with me. I'll just make Cora go with me..or Jessica if she ever comes down here. I hate it here!
Crystal got married yesterday...YAY! The only normal person left in Princeton is leaving me! I can't be sad about it though cuz I'm happy for her. Ryan is a nice guy :) She was just the only person I had left! I've met a few people since I've moved back home (everyone that I was friends with has gone off to better places-all that's left here are the doped up losers...really)..but they are in different situations that me. First of all..I don't have one single friend...I have Natalie in Indy, but she hardly ever comes down here...that's it. Here I have Kyleigh..who is not only living with her fiance but he wont ALLOW her to go ANYWHERE..not even to my house, without him and I have Cora who is also married but she does what she wants....she'll be fun.
Ok enough bitching..I dunno what I'm even saying cuz its 7:30 am and I haven't went to bed yet!
Wednesday, March 1st, 2006
---
1:22 am
- not too entertaining.....
I was supposed to take Taylor to the doctor for one of those well-baby check ups today. I rescheduled that and we went shopping instead :) I GOT PANTS THAT FIT! YAY! All my jeans are like a size or 2 too big, so I was really excited. Taylor got some PJs. :) We went back home and TAYLOR TOOK HER FIRST STEP! It was really cute, she was so happy!!! I messaged Joe-stupid me, thinking he'd care, oh well.
Tonight was my boss' last night for 6 weeks...damn maternity leave!!! She lasted way longer than I did when I was pregnant though. She has a planned c-section for Friday. I wish mine would've been planned..it would have been so much easier and I wouldn't have had to spend 7 days in the hospital!!! Anyway, she is having her 3rd girl...Jaylin Amira..I think that's how she's spelling it. I'm happy for her but work is going to FUCKING SUCK the next 6 weeks!
Guess I'd better go to sleep. My eye has been hurting since Saturday like someone punched me in the side of my face...ouch...probably just strained from no sleep!
Monday, February 27th, 2006
---
3:57 pm
- Busy + Tired....yay
Don't remember when I updated this last....oh well. I went to Indy EARLY Saturday morning. Taylor and I left the house at 8..I can't even remember the last time I was up that early. We went to Bedford and picked Jessica up and headed to Indy. We stopped at Starbucks on the way and talked to the little guy at the drive thru thing...poor guy said "welcome to starbucks, this is caleb" and we said hi caleb...he was like 'hi..i can't see you so i don't know who you are' we told him he didn't know us and he asked how we knew his name (wow..dumb). We said we were psychic and he asked us to guess his last name...a line was forming behind us so we just went to the window. He looked like Benji from Good Charlotte *haha*..so I told him that and he is like Well I know who they are but I don't know who that is....is that a good thing? I just said sure and we drove off. Ya, he wasn't cute...pretty exciting huh. Soooooo we met up with Taylor's grandma in Fishers and she went off with her. We went shopping and then went out around 11. It was wayyyyyyyy too cold out for what we were wearing, but its not like you can wear a sweater to clubs, so we had to deal with it. We went to Seven first. Ya, that place will be closed REALLY soon. The guys in front of us couldn't get in b/c of their shoes. We get inside and it was like fraternity guys and 30 something y/o women. OH and to get to one of the bars you have to go up a million different stairs and its like a maze. That's fine if you're sober, but I was scared of falling down all those steps (lol)..so we just went to the vogue. $10 cover! because of mardi gras..wtf...they had these little masks and boas everywhere, so I guess that's what the $10 was for. I saw my bartender again and she said I looked good..lol..Jessica said she was a lesbian..whatever she bought me a drink so I don't care :D Anyway, we didn't drink all that much. I just don't feel like drinking lately and the last time I felt like that I was pregnant..fuck that..no more kids. I love the one I have but NO MORE right now! Ya, anyway...sorry if this next part gets a little graphic-but whatever. We decided to go dance...bad idea! I felt some guy dancing behind me..I turned around a little just to make sure he wasn't a little Mexican (I know that sounds bad but...ew)..he was okay..so I danced with him. Now I've met a lot of people on that dance floor..and I've kissed some random guys when I've been drinking too much...not a big deal..but this guy put his freaking hands down my pants...AH! I just jumped on natalie, literally..and kinda moved behind her and then left the floor..that was gross...like foam party gross. If you're a guy..don't ever do that...bad! I wanted to go to some other bars, but Jessica found this guy (DAVE) that she liked so we stuck around. This group of black guys + one ghetto white guy kept starring at us...we were interested in these other guys that looked about 17 (lol). We ignored the ghetto group and got ready to leave and they cornered us. I got the ghetto white guy..HAHAHA. He put his # in my phone..Carl..no idea why that is so funny to me..but Carl? Yeah, don't think I'll be using that number. Went back to Natalie's house...I went RIGHT to sleep and woke up to a billion texts..slept right through them which never happens so I must have been REALLY tired. We wandered around Indy til about 5...got Taylor and went back home. Taylor was PISSED..she didn't like the car ride at all. Poor kid.
Friday, February 24th, 2006
---
1:03 am
- Hate to say it..but its kinda true...
You're An Angry Drunk

Ever wake up with sore knuckles and a black eye? Thought so.

12:38 am
- 12:40 am...
So I go back and forth on this friends only thing. I've been in trouble for this journal SO much...so its nice to keep it private..but then again, I don't want to be two-faced and type something about ya and you not see it..lol. I'm making public again...starting...NOW.
Ok-so I have my "life plan" now...I think...well, I have options anyway..here they are:
1. Stay in Princeton-start back up in school in August. Go to school during the day, work at night. Good thing about this is I can go to school COMPLETELY free (1 of the only single mom benefits). Doesn't leave much time to spend with my little girl though. Maybe I can cut back some hours at work.
2. Move to Bedford. Jessica W. has been 1 of my two best friends for YEARS but we've never lived in the same town. Bedford is only an hour and fifteen min. away from my hometown..same distance from Indy. This would make both Grandma's happy and I could get out of this shithole (princeton). I couldn't go to school because I HAVE to work...for my sanity...so I'd probably be stuck working at a bank or finance company..or even worse.
This is pretty much all I've though of for now...I wish I had enough money just to move away from everyone and say fuck you as I go, but I love my family and friends..plus I'm broke..so its impossible. I HATE PLANNING STUFF. Someone do this for me plz.

Ok--so my job is a JOKE. I talk on my phone ALL night. An hour straight tonight and no one even noticed. I had a long conversation at work with Scott..this guy who just got out of the army after 8 years (he was last stationed same place Joe is now). He was telling me how much they dick you around and how they always make every field sound like its awesome..when in reality they just don't have enough people to fill those spots so they have to say SOMETHING. He also told me that every guy in infantry was a whore..I laughed for a good half hour cuz I didn't even mention anything about that. Weird.
I tried to teach Kyleigh some of those clapping things (i know you all are like "huh) tonight. She was just WAY too uncoordinated. Later that night, I saw her practicing against the wall. I love her. :)
AND..I saw Andrew tonight. I can't even look at him when he comes through. We just found out that he was divorced in October 05 (he's only 23). I wonder what his ex wife looks like.
After work, I went and bought Taylor two outfits, shoes, a hat and some bows for her hair. She is getting so big. I don't even know what to do with her anymore!!! She got my cell today and did who knows what with it, but it wasn't working for an hour. She stood by herself for like 2 seconds today too! I know she's going to be walking within the next two months. I'm kinda sad that her daddy won't be able to see all that. I know he wants to be in her life..somehow, but I just need to face that she won't know him at all. I wish things were different. Ok. Time for bed :)
Thursday, January 26th, 2006
---
2:10 pm
- I <3 tax time!
Yay..I did my taxes today..$4225! YAY!!! I can't believe how much difference a kid can make..but I'm happy. I can pay my bills off!!! finally!
Hopefully it doesn't all go to those damn court fees...that would suck